8 years ago this morning, I was wildly gesturing to my groom from my post at the end of the aisle to take off his aviator sunglasses. I was refusing to walk to him until I could see his entire face.
I later found out he had this whole plan that involved taking them off and flinging them away as I approached – very theatrical, very much my husband. I foiled his plan because, silly me, I wanted a) to see his eyes as I walked down the aisle, and b) the focus to be on me. Understand, I do not like to be the center of attention. But on my wedding day, I did.
It's been 8 years since that fateful morning. 😉 Our wedding was such a fun day, for everyone involved. Even if our wedded bliss did begin with me refusing to move, or even later in the day when I (completely on accident!) almost choked my new husband with our cheesecake. It's not my fault he inhaled at the wrong time!
Since then, one word we have certainly infused into our marriage is fun. We both love to laugh, we both love adventure, and we both hate drama. We're both pretty dang stubborn (hence the delayed ceremony – me: take off the glasses! Greg: no!), and we both are pretty passionate when it comes to something we want. But the one piece of advice we got over and over before the big day was: have fun with it.
How have we done that? Amidst military life, six moves, four separations (geographical, not relational), two dogs, two years of unemployment between the two of us, financial strains, two very different ideas of what time we should go to bed, two very different ideas of what our living room should look like, general life schtuff?
1. We are quick to forgive. In an argument, one of us will inevitably melt and use a line from one of our favorite movies or tv shows. Usually: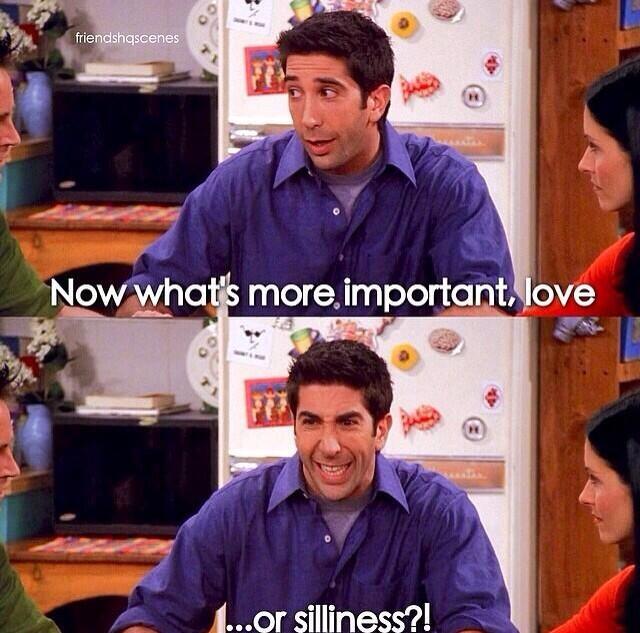 It's just not worth it to stay mad. We all make mistakes. We all falter. We all say things we don't mean, treat each other in not-so-kind ways. But you bounce back. You say sorry – and mean it – and you move on. It's way more fun!
2. We adventure together. Our school loans probably could have been paid off, or close to it, if we hadn't taken a couple of our vacations. We also would have missed out on a shared sense of adventure and inside jokes from all over the world. It's part of our life philosophy, that we don't put off an adventure – within reason, of course – because of an obligation. We pay our bills, we're doing just fine, let's go follow this little spark in our hearts that's asking to be fanned into a flame. We don't have to travel across the country to have an adventure – we love board and card games, riding on his motorcycle, running together, special dinners, etc. But we definitely don't do the same thing day-in and day-out.
3. We ask for God's help. Every day we pray for each other and for our marriage. That we would be strong spouses. That our hearts would be in the right place. Since we started dating we've held on to the idea of our relationship being a Three Strand Chord, and when we treat our marriage that way, we have the best days.
4. We let each other be free. Living in Japan for three months, trying out for a semi-pro hockey team, going to flight school, changing careers, going to grad school, going to grad school again, publishing a book, dancing every Friday night, beer and video game nights with friends, going 164 mph on a motorcycle, trying every gluten-free chocolate chip cookie we can get our hands on, zumba, roller hockey. We let each other breathe. We do plenty of stuff together, but we are two separate people with two separate beating hearts that need very different things. Stifling would mean loads of crankiness, and that's just not what we're about.
5. We love each other. We don't just say it. We try our very hardest to embody 1 Corinthians 13:4-8a –
Love is patient, love is kind.
It does not envy, it does not boast, it is not proud.
It does not dishonor others, it is not self-seeking,
it is not easily angered, it keeps no record of wrongs.
Love does not delight in evil but rejoices with the truth.
It always protects, always trusts, always hopes, always perseveres.
Love never fails.
Simple truths, but truths nonetheless. No two marriages will look the same, but with commitment, there's hope for every marriage to not just survive, but to thrive.
To my groom: I am so glad we decided to take this adventure together. I'm sorry I foiled your plans 8 years ago, but I know you've forgiven me and you've had plenty of shenanigans since then! You are kind, you are sweet. You teach me how to love. Thank you for everything you do for me as your wife; I hope I can do the same for you. "See, she's a lot of fun, and you're no fun at all. She [completes] you." 😉 Muah!